Brought up in Turkey and England, Michael Bochmann has been well known in British musical life for many years. He has performed in the USA, all over Europe and in India. During his time as a student at the Royal Academy of Music in London he was a pupil of the famous teacher Frederick Grinke. Later he received lessons from Sándor Végh and Henryk Szeryng. He was also a participating pupil on Menuhin's Master classes on BBC2 TV. In February 1990 Michael partnered Sir Yehudi Menuhin in the Bach Double Violin Concerto in a most successful tour of 16 concerts throughout the USA and Canada.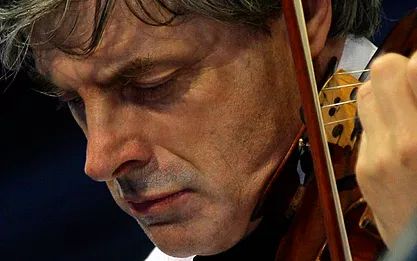 He formed the Bochmann Quartet in 1977 with which he made over 50 broadcasts within their first 10 years. During this period, he also performed with the Academy of St. Martin in the Fields directed by Neville Marriner and the English Chamber Orchestra.
He directed the English String Orchestra until 2016. His recording of "The Lark Ascending" by Vaughan Williams with the ESO on the Nimbus label has been broadcast many times on Radio 3 and Classic FM.
He is very active as a teacher and is a professor of violin and chamber music at Trinitylaban Conservatoire of Music and Dance in London.
For 14 years, he has been associated with Klanglust in Fürth Nuremberg – project that has transformed his life and the lives of many others. This is a string orchestra made up of professional and amateur musicians and sometimes children performing music together at Langenzenn Monastery.
He started the Water City Music enterprise in 2009 which culminates in a Youth Festival at the Tower of London. It has run every summer 2013 – 2016 and includes 1400 children from East London and other areas. There is an ongoing programme of events throughout the year involving children.
In 2015 he was awarded MBE for services to music in the Queen's Birthday Honours list.