Peter Adams' career can be truly described as meteoric. When most 'would be' musicians are still at school, the sixteen year old Peter was playing in the orchestra of London Festival Ballet. By the age of 21 he had become principal cellist of both the London String Orchestra and London City Ballet. Perhaps even more remarkable he became in that same year Professor of viola da gamba and baroque cello at the Royal Academy of Music-the youngest ever professor in the Academy's history.
Not content with these achievements, four years later Peter embarked upon a two year period of study at Indiana University, taking lessons and master classes with such legendary figures as Tsuyoshi Tsutsumi, Janos Starker, Paul Tortelier and Rostislav Dubinsky, before returning from America to study further with William Pleeth.
Peter's orchestral career has earned him principal positions with the English String Orchestra, the Brighton Philharmonic, the City of Oxford Orchestra and Oxford Philomusica.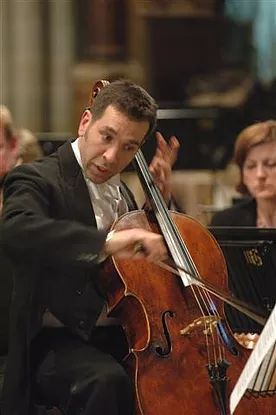 In addition to his orchestral work Peter has always been keenly interested in chamber music, having been a founder member of the Rogeri Piano Trio and for twelve years a member of the Bochmann String Quartet. His chamber music collaborators have included amongst others Nigel Kennedy, Robert Cohen, Rafael Walfisch, Jack Brymer, Natalie Clein and Jeremy Menuhin. Throughout this time he has maintained his interest in early music through solo appearances on the viola da gamba and his directorship of the Elizabethan Consort of Viols.
When he is not playing his beloved Rogeri cello of 1697 or teaching for Oundle School and Oxford University, Peter enjoys driving his 1951 Citroen whilst collecting Georgian furniture and travelling to France to keep the family cellar well stocked.